Toyo Seikan (Thailand) Co., Ltd. is a joint venture of 3 companies, Wellpack Innovation Co., Ltd., Toyopack International Co., Ltd. and Toyo Sekan Technical and Administrator. Tration Service Center (Asia) Co., Ltd., in which each company has different expertise.

Wellpack Innovation Co., Ltd. specializes in the production of plastic packaging. and plastic material With the knowledge and technology that has been accumulated for a long time from the parent company (Toyo Seikan Kaisha), we have the knowledge and ability to produce in this field.
Toyo Second Technical and Administration Service Center (Asia) Co., Ltd. specializes in testing food packaging products. to find the best quality packaging method
by after the flood We have joined forces from all 3 companies together. to be able to produce even better products As detailed in the figure below, with philosophy and mission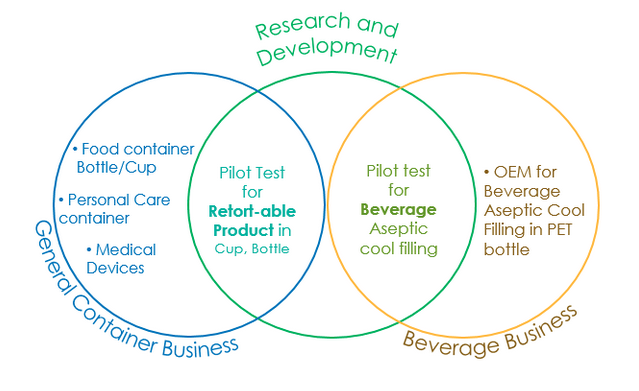 Philosophy and Mission
An expert with an ideal attitude
We strive to be a company that can provide safety and reliability to customers and consumers and contribute to society. We will continue to promote human resource development and technological innovation.
Key to success
- Always strive for high efficiency and low cost production.
- Challenging new things and constantly trying to innovate.
- Doing activities that have the needs of the market and customers as the top priority.
from the foregoing Toyo Seikan (Thailand) Co., Ltd. can provide services to customers in terms of food products. and general non-food items
WPI

We start work at Sriracha Plant.

WPI

We establish for Wellpack Innovation Co.,Ltd.

TPI

Introduction (Beverage)

Toyo Seikan (Thailand) Co.,Ltd. – "Beverage Business Unit" – has been established since August 2006 formerly as named Toyo Pack International Co.,Ltd. initially business purpose was to sell Advanced Technology of Aseptic Filling Machine which technically designed by our parent company – Toyo Seikan group – with many years of experience of business core of packaging and aseptic filling technology enhancement. As demonstration for actual production running was inquired, we humbly received opportunity by customers putting reliability to place beverage production order to us in 2008. We, since then, transformed our commercial purpose to fully OEM Co-packing business for beverage filled in PET Bottle under Aseptic Filling Condition and continually shape our consistency and accountability in leading OEM Aseptic Filling Co-Packer.

WPI

We start work at Rojana Plant, ayutthaya.

TAS

We establish Toyo Seikan Technical and Administration Co.,Ltd.

TPI

In 2013, we have merged with affiliated companies named as Toyo Seikan (Thailand) Co.,Ltd to build business fundamental strength after flood crisis in year 2011. We, "Beverage Business Division", provide our total solutions service of Contract OEM Co-packing business serving ready – to – drink beverage filled in PET Bottle under Aseptic Filling Condition covering process of bottle shape design, recipe development & formulation, worldwide material sourcing & procurement, PREFORM injection, PET bottle blowing, beverage blending & sterilizing, filling, packing and product delivery.

Better Solution! Better Life!

TST

Combine company (Data wait translation)

Cor

Toyo Seikan (Thailand) Co., Ltd. is a joint venture of 3 companies, Wellpack Innovation Co., Ltd., Toyopack International Co., Ltd. and Toyo Sekan Technical and Administrator. Tration Service Center (Asia) Co., Ltd., in which each company has different expertise.

Wellpack Innovation Co., Ltd. specializes in the production of plastic packaging. and plastic material With the knowledge and technology that has been accumulated for a long time from the parent company (Toyo Seikan Kaisha), we have the knowledge and ability to produce in this field.

Toyo Second Technical and Administration Service Center (Asia) Co., Ltd. specializes in testing food packaging products. to find the best quality packaging method

by after the flood We have joined forces from all 3 companies together. to be able to produce even better products As detailed in the figure below, with philosophy and mission

Philosophy and Mission

An expert with an ideal attitude

We strive to be a company that can provide safety and reliability to customers and consumers and contribute to society. We will continue to promote human resource development and technological innovation.

Key to success

- Always strive for high efficiency and low cost production.

- Challenging new things and constantly trying to innovate.

- Doing activities that have the needs of the market and customers as the top priority.

from the foregoing Toyo Seikan (Thailand) Co., Ltd. can provide services to customers in terms of food products. and general non-food items